The greater Rochester area is a diverse and thriving community, with a set of both distinct opportunities and unique challenges. From developing safe and reliable transportation systems to recruiting and retaining qualified workers, the Chamber's Community Matters events focuses a lens on issues and topics of community importance. Held in a variety of locations in and around Rochester and developed in collaboration with area partners, these quarterly events are open for all to register and attend.
Creative Solutions to Hire, Retain, and Develop Employees
Tuesday, February 19 | 11:30am - 1pm | Heintz Center at RCTC
The Chamber partnered with
Rochester Workforce Development, Inc.
(WDI) to address a significant issue faced by many employers in the region -- the workforce shortage. During this informative and focused event, attendees learned more about
the resources available through WDI and identified best practices from "WDI Best Place to Work 2019" employers, including GEOTEK, McNeilus, Pace International, and Taco JED.
Sponsors:
Bremer Bank
,
Mayo Clinic
, and
Rochester Public Utilities
RST and You: the Impact of the Airport on Your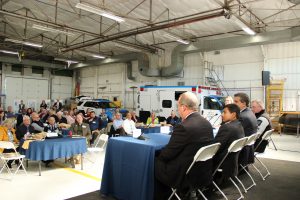 Business and Our Economy
Friday, October 25 | 11:30am - 1pm | Rochester International Airport
The Rochester International Airport was the topic of October's Community Matters, with more than 90 attendees gathering to listen to a panel of experts discuss the significant role the Rochester International Airport plays in our regional economy. Questions answered included:
Why does our business community need a strong airport?
What is the impact of the airport on our local and regional economy?
What is the day in the life our airport with 370,000 annual passengers, 2,911 employees, and 22.4 million pounds of total annual cargo?
In addition, as part of this event, RST offered behind-the-scenes access to the tarmac where attendees interacted with a variety of aircraft.
Transit Circulator: the Future of Downtown Transit
Friday, August 16 | 11:30am - 1pm | DoubleTree by Hilton
On October 7, the Rochester City Council voted on the Transit Circulator project. Before this decision was made, the Chamber looked to answer some basic questions about the project, namely, "what is the context of the Transit Circulator in relation to the broader transportation needs for our community?"
More than 60 attendees gathered on August 16 to hear from City Councilmember Mark Bilderback, DMC Executive Director Lisa Clarke, and Rochester's Assistant City Administrator II Aaron Parrish as they discussed the transit circulator project and the future of transportation in our community.