The Eggs and Issues program is a staple Public Affairs series hosted by the Rochester Area Chamber. Featuring elected and appointed officials from all levels of government - state, local, and federal - this semi-regular series addresses the pressing issues and topics affecting small businesses and our economy. Combining facilitated discussions, roundtables, and panels with ample time for audience questions, Eggs and Issues events provide an excellent opportunity to connect with policymakers, hear their thoughts and perspectives, and make your voice hear with the decisionmakers in City Hall and the Capitol.
Potential Special Session: Will there be Bi-partisan Agreement on Major Issues?
Time: 8:00am  | Date: Thursday, July 9 | Virtual Zoom Meeting
With another special session likely to be called, the Chamber hosted a special Eggs and Issues round-table moderated by Betsy Singer of ABC 6 News and featuring Assistant Senate Minority Leader Nick Fentz, Senator David Senjem, and Senator Carla Nelson. More than 125 guests tuned into this virtual meeting to hear and ask questions of the three senators as they shared their thoughts and perspectives on a wide array of topics and issues expected to come up when lawmakers return to St. Paul.
Sponsors: Charter Communications, Mayo Clinic, Southern Minnesota Municipal Power Agency, ABC 6 News
What are Minnesota's Budget Priorities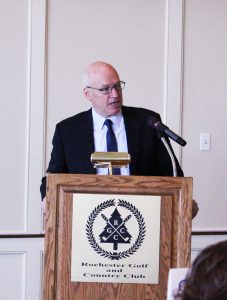 Time: 7:30am  | Date: Friday, Feb. 22, 2019 | Rochester Golf and Country Club
2019's second Eggs and Issues featured an exclusive discussion about Statewide issues with Minnesota Management and Budget Commissioner Myron Frans.
Highlights from the morning:
It was one of the first opportunities to hear about the the Governor's Budget Recommendations, which was released on February 19, from Mr. Frans
​Attendees asked their budget questions of the Commissioner and questions of the local elected delegation on issues ranging from Highway 14 to Tax conformity
Local legislators interacted with and asked questions of Commissioner
Click HERE for the event program
Sponsors: Mayo Clinic, People's Energy Cooperative, Pharmaceutical Specialties, Inc., Premier Bank Rochester, Southern Minnesota Municipal Power Agency
Conversation with Newly Elected City Council Members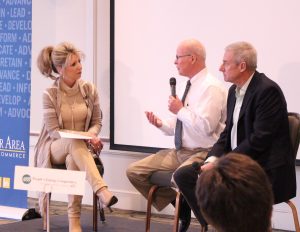 Time: 7:30am  | Date: Friday, Jan. 25, 2019 | Rochester Golf and Country Club
Moderator Betsy Singer from ABC 6 News will spoke with Shaun Palmer & Patrick Keane,  two newly elected members of the Rochester City Council about their goals, what they have learned in the time since they were elected and inaugurated, and what they saw as the big issues facing our community in 2019.
Click HERE for the event program
Sponsors: Mayo Clinic, People's Energy Cooperative, Pharmaceutical Specialties, Inc., Premier Bank Rochester, Southern Minnesota Municipal Power Agency