2021-22 Sessions:
Orientation | August 19, 2021
Leadership Retreat | September 16-17
Workforce & Talent | October 28
Community Impact Project | November 18
Exploring our Economic Ecosystem | December 16
Arts, Culture, & Humanities | January 20, 2022
Building a Sustainable Community | February 17
Engaging with Local Government | March 17
Experiencing Public Safety | April 21
Launching Leaders | May 13                                          LGR Graduation | May 17
Inspire | Connect | Enlighten
Program Overview
Leadership Greater Rochester is the Chamber's premier leadership development program. Since 1987, this program has propelled leaders in the community to further be inspired, connected and enlightened. The 950 alumni who have graduated from LGR have gone on to serve in various civic, community, and business leadership positions. The LGR network stretches across the community, present in almost every sector.
This 10-month program immerses three dozen leaders in sessions examining everything from economic development and the local arts scene, to workforce development and building a sustainable community. Through enriching conversations, behind-the-scenes tours, and work on the Community Impact Project, the LGR experience builds lifelong relationships and provides opportunities for business and community leaders to shape and contribute to the fabric of the greater Rochester area.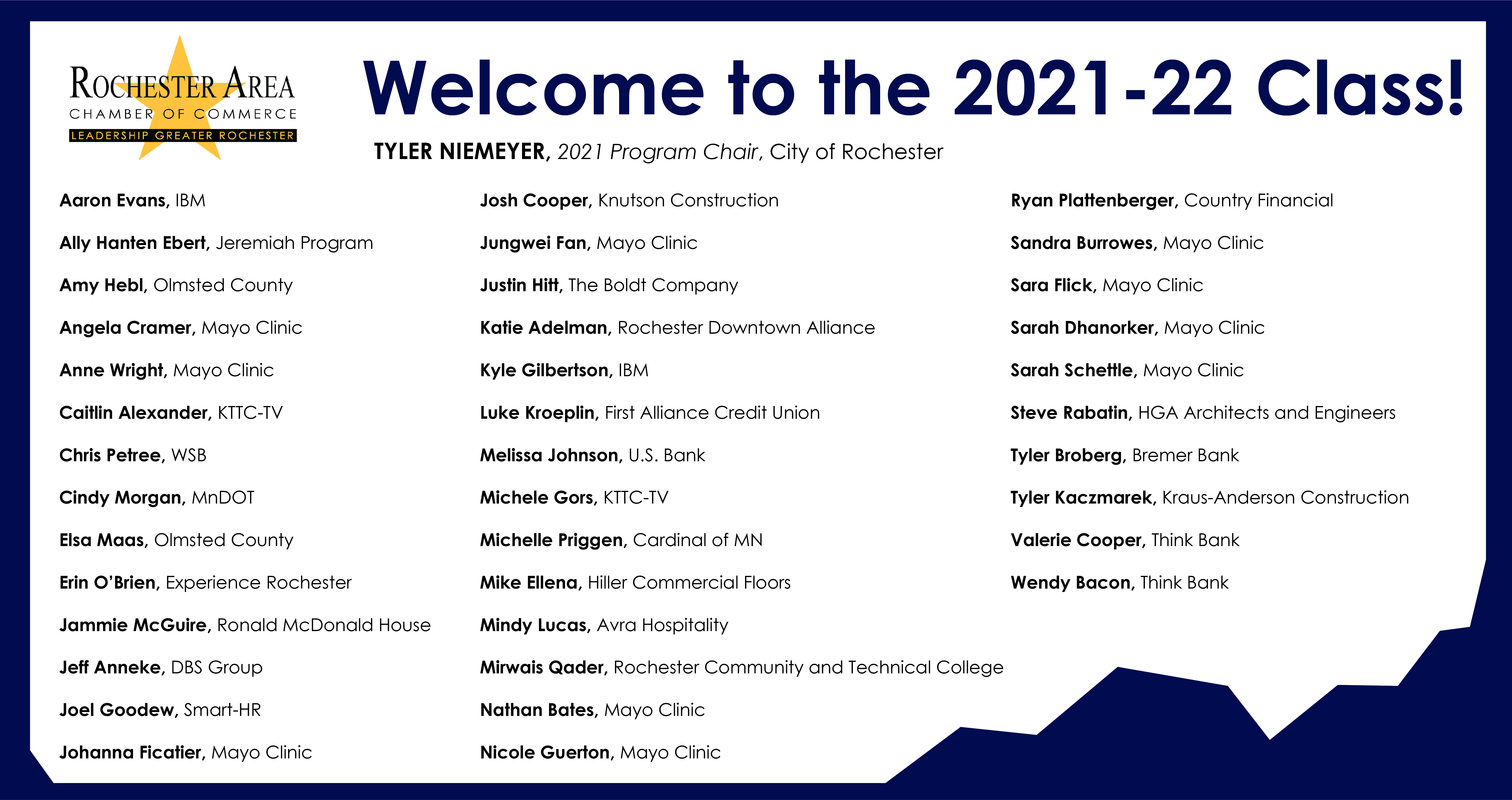 Small Business Leader Scholarship
The Chamber is proud to partner with Broadway Plaza to offer a new scholarship for 2021, the Leadership Greater Rochester Small Business Leader Scholarship. This scholarship is worth 75% of the full program tuition ($1,300) and will be awarded on a competitive basis to an eligible and deserving small business candidate. In order to qualify, the candidate must apply to the 2021 program in full faith and meet the following eligibility requirements:
Own, operate, or work at a small business
The business must be a member of the Rochester Area Chamber
The business must not have more than 15 employees
2021 Recipient: Katie Adelman, Rochester Downtown Alliance