Celebrations and Promotions
News Releases Have you recently hired a new employee? Are you offering new products or services? Have you upgraded or moved your space? Celebrate these milestones by publishing a 70-word news reel! In addition to the website, your new release will also be featured in the Chamber Advantage Magazine (publish date at the discretion of the managing editor).
Ribbon Cutting As a member of the Chamber, you are part of a community that celebrates our collective success and achievement. Ribbon Cuttings--in addition to celebrating an anniversary, groundbreaking, or anniversary -- are a business tool which can help you with brand visibility, community awareness, and valuable networking. Learn more . . .
Hot Deals Consumers consistently rank finding sales and deals high on their priorities when shopping for goods or services. The Chamber helps its membership reach these consumers through Hot Deals - a free tool for members to post their sales or promotions to be seen by the general public. Learn more . . .
Member2Member An exclusive benefit of Chamber membership is being able to see what deals and promotions are available from other members. Once you join as a member, you can post your deals or promotions to Member2Member to reach our 1,200+ strong business membership. Learn more . . .
E-Newsletter The Chamber's E-Newsletter is distributed by email every Wednesday to more than 4,000 unique subscribers and provides timely and relevant information about upcoming Chamber events, programs, and trainings.
Sign up to get weekly updates from the Chamber by subscribing to  our newsletter.
Directory Listing Each Chamber member is listed in the Chamber's online Membership Directory. Members receive a free web link from our Chamber website to their website. We recommend updating your Member Profile to 90-100% completion to maximize the potential of your listing.
Enhanced Directory Listing Set your business apart by purchasing an enhanced directory listing! For $15 a month, your business will be featured in the top listings whenever a potential customer searches in which you appear. 
Enhanced listings are limited to 10% of businesses in each category, so your business will always rise to the top
EDL businesses can upload pictures and videos to their listings, maximizing the advertising value of the Chamber directory
Mailing List Interested in purchasing a mailing list of our members? Contact Cheryl Krage at ckrage@rochestermnchamber.com
Under the leadership of our Board of Directors, the Chamber has worked hard to increase the value and variety of Chamber programming for our members. Without increasing operating expenses, we have been able to build upon our traditional programming - increasing member attendance and engagement - while also creating new programming designed to help small business succeed in the increasingly competitive and online marketplace. 
We are committed to more collaboration and more innovation to create greater value for our sponsors, our members and our local economy.
To view our 2020 sponsorship opportunities please click below.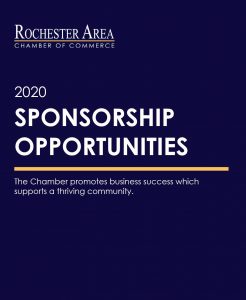 SPECIAL DISCOUNT! Constant Contact
As part of your Chamber membership, you qualify for a special discount on Constant Contact email marketing. If you prepay for 6 months, you receive a 20% discount. Prepay for a year and save 25%! To
Don't already have a Constant Contact account? Click here for a 60-day free trial
Already have an account? Email chamberprograms@constantcontact.com with your username telling them you are a member of the Rochester Area Chamber of Commerce